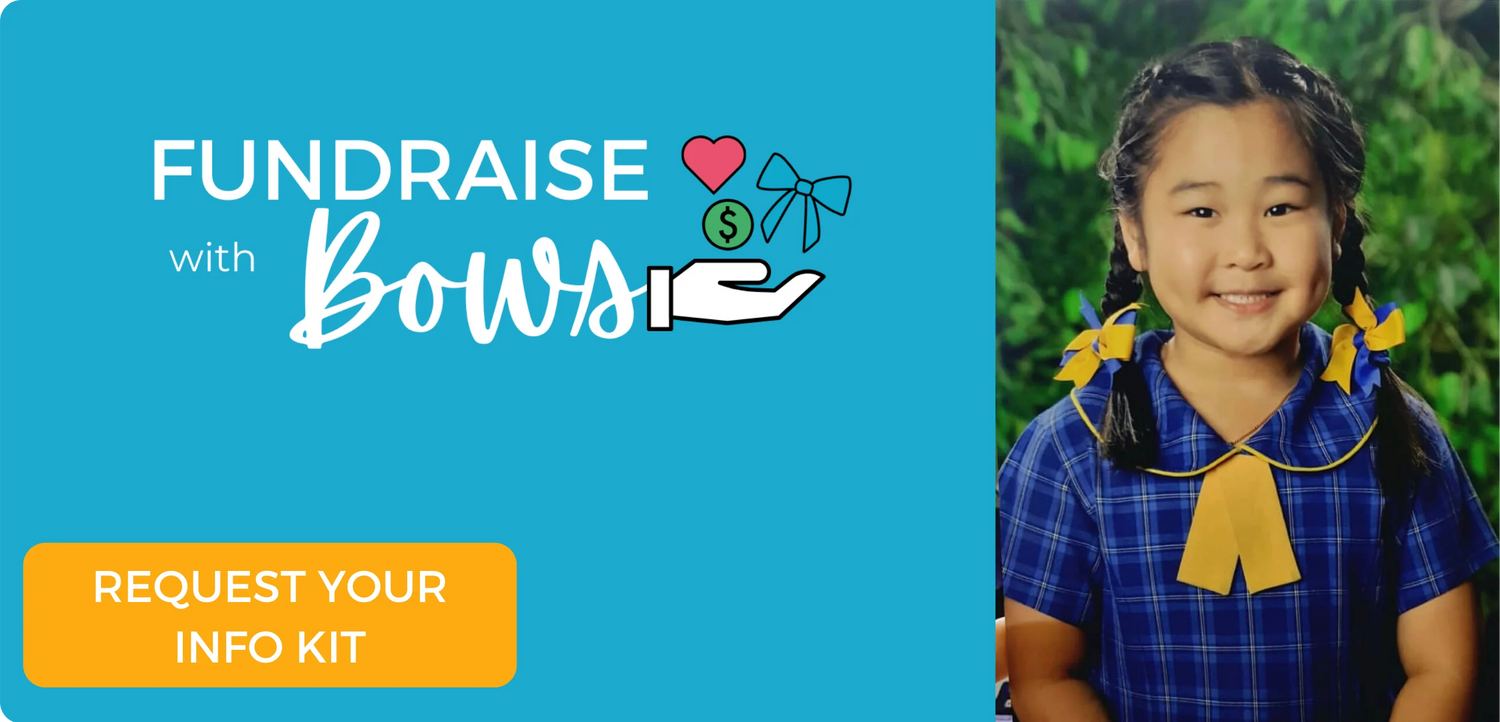 School Ponytails
It's no surprise: I'm a huge fan of perfectly matched school uniforms. 
In fact, it was my own daughter's need for a very specific colour of bow that gave me the idea for my School Ponytails brand.

After manufacturing a small amount for my daughter and her friends, it dawned on me that every school in Australia should be able to supply students with co-ordinating accessories. If they couldn't have them on hand in their Uniform Shop, there was a huge potential for the school's P&C to Fundraise with Bows! 
My primary aims were to ensure the products were of a high quality, so that schools would be proud to support us.

I also needed to keep the retail prices affordable, so we were a great option for families.

I had to do whatever I could to maximise the profits for schools, and minimise the effort put on their volunteer community nationally.

We've gone on to become Australia's best choice for school uniform and sports accessories, and proudly supply hundreds of schools and thousands of shoppers nationwide through our online store, and in a wholesale capacity. We deliver on these goals every day, whether it's to a school, sports club, or community group.


-Nicola, CEO and Founder of award-winning company School Ponytails, and program: Fundraise with Bows
How does it work?
1. Choose your Colours

from our huge range of in-stock colours and styles.

If you can't find your colours, we can customise from our range of 190 ribbon shades when you Pre-Order or place a Stockist Order.

2. Provide your Logo

and we'll create a page on our website that's JUST for your school.

We provide your unique Fundraising Code for your community. 

They can shop the whole store...not just your uniform and sports colours.Pop the code in the Checkout, and at the end of term, we tally the sales and send back 20%!

3. Promote

We provide the marketing materials and graphics, as well as advice on how and when to promote your fundraiser to reach your maximum fundraising potential.
Let customers speak for us
Our Guarantee
When you work with School Ponytails, you're working with a registered company, that's fully insured. Our Distribution Centre is located in Western Australia and ships nationally, daily.

If there's ever a faulty product in your delivery, we guarantee we'll make it right. It doesn't happen often, but we always fix it!

There is never a locked in contract with School Ponytails.
We want to keep the lives of your volunteers as simple as possible. Our fundraisers are simple, and don't need to be over-complicated.

Please just email Hello@SchoolPonytails.com.au if you ever have a question.

Frequently Asked Questions
My school is interested in fundraising online. How soon can we start?

Your school can be earning 20% from online sales in no time at all. Just email us:

your logo,
confirm your colours,
send your P&C bank account details (for payments)
and be sure to let us know that you have authorisation from Leadership +/or the P&C, and we do the rest!

Once we have those details, we'll have you set up and ready to go within the same week! (It's likely to be ready within 48 hours!).

How do our families shop your store?

The easiest way is by following the fundraising link that we supply you.

OR: Simply select to SHOP BY SCHOOL and click your state to find your school in the list.

Your school's unique Fundraising Code will be listed on your school's page, and just needs to be showing in the Checkout once you've finished shopping.

At the end of the school term, we'll send 20% of the sales value back to your P&C/committee. You can shop from the whole store - which means birthday presents, everyday wear, Christmas gifts, and sports purchases can all support your school!
How does the "Free Delivery to School" offer work?

Your organisation can arrange a "free delivery to school" date with us, and we'll ship your collated orders for free (the shipping cost is covered by your fundraising earnings).

The easiest way to shop is via your fundraising link, which will have a special "free delivery activation" showing.

Alternatively, your community can shop on paper order forms or through your school apps, by making their selections and providing pre-payment to you.

We then collate all of the orders, and deliver the items at the later date (which we arrange with you beforehand).

This delivery option is perfect when it's timed to match up with all your big events, like Sports Day, Photo Day, Kindy Orientation, and Back to School in January/February.
How much is shipping?

Shipping prices are visible on our website, and are applied automatically at the checkout.

We use Australia Post to ship our orders.

Free Pick-Up from our Port Kennedy, WA site is available.

We can also activate the "Free Delivery to School" offer for you, from time-to-time.

For further information, see our Shipping Policy.
I can't see our uniform colours online. Can you do them?

Of course!

We're in-stock in a huge number of colours and 2-4 colour combinations.

If we aren't currently in-stock in your specific shade/s, we can manufacture these with Pre-Orders or with Stockist Orders. 
My P&C Committee will need to discuss and vote on this. What should I do in the meantime?

We work with P&Cs around Australia, and understand that you will need to have approval to begin a fundraiser or add items to your Uniform Shop.

First of all, add School Ponytails as an agenda item for your next P&C Meeting. If you need further information or require clarity on anything at all, please call Nicola. With advance notice, we can arrange a call or video call in to your meeting!

Once you have approval, just call or email us, and we'll get you started!

In the meantime, why not join us in our exclusive Facebook Group? 
Our school Uniform Policy is very strict, and some of the styles may not suit us. Can we limit the products made available?

We're very mindful of school uniform policies here at School Ponytails, and we can certainly be sure to add a note stipulating which styles are approved for your school.

There is always a reference made encouraging shoppers to check your uniform policy on your school's page. We can list styles that are approved for school-hours wear, just like in the example of Mother Teresa Catholic College.

Of course, the most obvious and visible option for reinforcing your dress code is to stock the selected styles in your Uniform Shop.

Rest assured that we will always have your product range set up so that fundraising earnings can be earnt across the board, particularly as many shoppers purchase for outside of school hours and extracurricular activities too.

Parents could make a purchase at any store (online or bricks and mortar), and they could select items that are inappropriate for school hours wear. By reinforcing your policy and preferred styles on the page, we hope to back-up your school's position at the point of sale, which should go a long way to limiting inappropriate products at school.
We don't have a Uniform Shop. Will a School Ponytails fundraiser work for us?

It's becoming increasingly common that schools are outsourcing their uniform supply, and this means there's no Uniform Shop on site.

All schools have an Administration Office though, and these are often the busiest places in the school outside the classroom! Even our Uniform Shop stockists are known to place their display on the Admin Desk during the days they're not open. It just takes a friendly and open Receptionist who's willing to accept payments.

If you'd really like to have a stand at school, other options include a display in the Canteen, or a stand that comes out on School Banking Day. Our stockists frequently bring their stands out for Sports Day or other market type events run by the school/P&C.

If these options don't suit, we can operate an online fundraiser, and parents can shop through the website or through our optional printable Order Forms. It's free to register, and you earn 20% from the sales!
We're a P&F, and our parents pay a fundraising levy, so fundraising isn't for us... Will School Ponytails work for us?

No matter whether you plan on raising a fundraising share, a profit for your school, or funds for a charitable contribution, School Ponytails can work for you.

Become a stockist in your Uniform Shop, or register for our online fundraiser for free to earn a profit for your school, or for a charitable donation. 
We're all volunteers. How much effort will we need to put in?

We work with P&Cs nationwide, so we completely understand that you have a mostly voluntary workforce!

With this in mind, we keep things as simple as possible.


To maximise your fundraising earnings, we suggest to arrange Newsletter mentions, Posters around school, +/or Facebook posts to promote your fundraiser. However we do supply marketing materials, scripted copy, and graphics through our Facebook Group, so you can save, copy, or share as required! We also provide tips on post frequency and remind you of key dates to promote. This makes promoting a lot easier! You may even have a volunteer parent that can't come to meetings, but has access to Facebook at home, and happy to pop some posts up each term! 
We supply a printable Order Form that you can print and distribute IF you choose to do so. 
We aim to run one order cycle and delivery per term, which frees up your team for other tasks (of course, you can order more than once per term if you need to though!).
We deliver your Pre-Order parcels labelled with your School Name, Child's Name, and Class ID, which allows you to distribute the parcels to classrooms or through the office for collection. The only products that we don't recommend going direct to children are the aerosol hair sprays - these need to be collected by an adult.

That's just about all the "work" involved. Too easy!
Handy Links
Contact Details

Contact Name: Nicola
Email: Hello@SchoolPonytails.com.au
Warehouse location: Port Kennedy, WA
Phone: 0415 245 055
Still got questions?
Schedule your obligation-free 15 minute call with Nicola from School Ponytails.
REGISTER TO FUNDRAISE TODAY!
If you're ready to have your school's page activated, send your details here: